Make eZcycle the easy part of your community clean-up!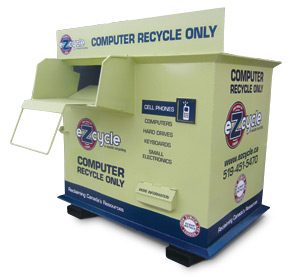 If your community plans a seasonal Spring or Fall clean-up event, you have the ideal opportunity to divert hazardous electronic waste from your landfill.
eZcycle mobile collection bins are available for delivery anywhere you designate for community e-waste collection.
Our eZcycle bins are designed to secure all types of electronic waste. With our roll-off trucks and forklifts, these units are easily placed and are quickly and safely located on your site. Invite local households and businesses to dispose of their unwanted electronics or use our bins to collect scrapped equipment from your own IT Department and office staff.
It's this easy! Simply book your date with eZcycle and we take care of the rest. Our team will set up at your e-waste collection site, provide knowledgeable staff for the event, clean-up the area at the end of day and return the bins to our e-waste centre in London for sorting and disposal.
We can even provide artwork for flyers and posters to help with promoting your local event.
To arrange your e-waste recycling project, call John Zubick Limited at 519-451-5470 or email eZcycle here.
Drive up. Drop off. Done!
Computers, Cell Phones, Cameras, Camcorders, Keyboards & Mice, TVs & Monitors, Memory Cards, Game Systems, Expansion Cards, Hard Drives, Tablets, Printers, Scanners, Fax Machines, Photocopiers, PDAs, MP3 Players, DVD Players, VCRs, Audio Equipment, Boom Boxes.
Drive up.
Drop off.
Done!
Computers
Cell Phones
Cameras
Camcorders
Keyboards & Mice
TVs & Monitors
Memory Cards
Game Systems
Expansion Cards
Hard Drives
Tablets
Printers
Scanners
Fax Machines
Photocopiers
PDAs
MP3 Players
DVD Players
VCRs
Audio Equipment
Boom Boxes