Make eZcycle the easy part of your family's "green" plan!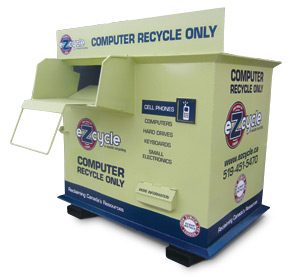 Old phones, TVs, game consoles, computer parts – it seems every modern household has a stash of obsolete electronics taking up space in the basement or shed.
Now you can reclaim that space and dispose of toxic e-waste in a simple, responsibly, environmentally-friendly way.
The eZcycle drive-up depot provides a safe, easy-access facility that's open 24/7 for disposal of your unwanted devices and parts.
Our secure process also ensures that any personal, private confidential information stored on your devices is permanently destroyed.
Community groups
If you're active in a local charity or community group, find out how eZcycle can help you turn e-waste into cash! We can deliver a mobile eZcycle bin to your approved recycling designated area, and help you plan a community event that combines service with fundraising.
It's this easy! Simply book your date with eZcycle and we take care of the rest. Our team will set up at your e-waste collection site, provide knowledgeable staff for the event, clean-up the area at the end of day and return the bins to our e-waste centre in London for sorting and disposal.
We can even provide artwork for flyers and posters to help with promoting your local event.
To arrange your e-waste recycling project, call John Zubick Limited at 519-451-5470 or email eZcycle here.
Drive up. Drop off. Done!
Computers, Cell Phones, Cameras, Camcorders, Keyboards & Mice, TVs & Monitors, Memory Cards, Game Systems, Expansion Cards, Hard Drives, Tablets, Printers, Scanners, Fax Machines, Photocopiers, PDAs, MP3 Players, DVD Players, VCRs, Audio Equipment, Boom Boxes.
Drive up.
Drop off.
Done!
Computers
Cell Phones
Cameras
Camcorders
Keyboards & Mice
TVs & Monitors
Memory Cards
Game Systems
Expansion Cards
Hard Drives
Tablets
Printers
Scanners
Fax Machines
Photocopiers
PDAs
MP3 Players
DVD Players
VCRs
Audio Equipment
Boom Boxes