What's next for your waste electronics?
eZcycle keeps hazardous material out of landfills
Electronic waste contains many potentially hazardous materials but eZcycle works to turn that waste into valuable resources.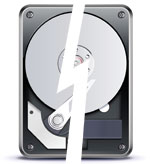 The eZcycle e-waste service is operated by John Zubick Limited, a leading independent scrap recycler in London, Ontario. Material collected through the eZcycle depot and collection bins are processed through one of the region's most advanced e-waste recycling systems.
A multi-stage process streams different electronic parts and components to be mechanically reduced for further separation.
Specialized separators recover materials that can be used as raw materials by manufacturers and smelters:
Aluminum • Iron • Copper • Resins
Plastics • Lead • Tin • Silicon
Hazardous materials including gases, heavy metals and trace elements are captured and contained to prevent them from escaping into the environment.
John Zubick Limited recommends that you wipe your drives and clear your SIM cards.
As a member of OES,  the Ontario Electronic Stewardship network, Zubick's eZcycle is part of the solution "to lead end-of-life electronics collection in an environmentally responsible and cost effective manner."
Drive up. Drop off. Done!
Computers, Cell Phones, Cameras, Camcorders, Keyboards & Mice, TVs & Monitors, Memory Cards, Game Systems, Expansion Cards, Hard Drives, Tablets, Printers, Scanners, Fax Machines, Photocopiers, PDAs, MP3 Players, DVD Players, VCRs, Audio Equipment, Boom Boxes.
Drive up.
Drop off.
Done!
Computers
Cell Phones
Cameras
Camcorders
Keyboards & Mice
TVs & Monitors
Memory Cards
Game Systems
Expansion Cards
Hard Drives
Tablets
Printers
Scanners
Fax Machines
Photocopiers
PDAs
MP3 Players
DVD Players
VCRs
Audio Equipment
Boom Boxes